Can utilities develop new products to drive opportunities with small businesses?
Magazines and newspapers are buzzing with articles on energy-conserving products for consumers, such as electric vehicles, solar power options, and zoned temperature controls. But how can utilities take advantage of the buzz? Portland General Electric (PGE) wanted to find out.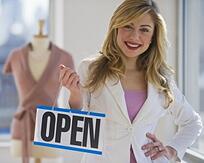 PGE theorized that ductless heat pumps can offer constant comfort to small businesses without the cost or hassle of a major HVAC overhaul.
PGE engaged Hansa GCR to conduct research with the small business market—ranging from a tattoo shop to a winery to a dog daycare to a printing company. Research explored their current needs, their perceptions of the ductless heat pump product, and the hurdles they perceived in adoption.
Hansa found that while small businesses want the cost savings associated with a ductless heat pump system, they are wary of buying the product without fully exploring the adoption costs.
Secondary benefits point to customer and employee satisfaction. If a work environment is too hot or too cold, uncomfortable employees will complain – and customers will simply leave. Neither scenario is ideal for business.
The graphic below explains how small businesses perceive the benefits of the ductless heat pump.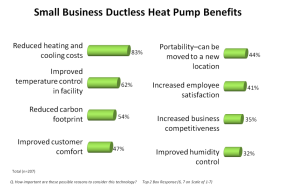 To make a purchase, however, they really need to know more about the product's performance. To understand ROI and make a purchase decision, small business decision makers turn to subject matter experts and utilities for guidance. This is a positive and eye-opening finding for utilities, as illustrated below.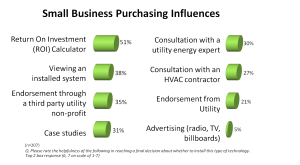 While small businesses want to hear about ductless heat pumps from unbiased parties such as nonprofits and other business owners, over a quarter of them listen to utilities. This further reinforces the fact that utilities have the opportunity to influence purchase decisions for small businesses.
How did this research translate into a go-to-market strategy for PGE? By applying what they learned from Hansa's research, PGE can develop go-to-market plans to:
Target segments of interested small business customers
Prioritize the most compelling product benefits in marketing programs
Develop materials and resources to help small business make decisions about adopting the product
About Hansa GCR
Hansa knows utilities and understands that utilities must do more with fewer resources. Hansa applies leading edge research techniques including ExperienceBoards™ and Experience Mapping, among many others, to help utilities understand these and other pressing issues.
Recent Hansa research initiatives specific to the utility industry include:
Understanding power outage experiences to drive customer satisfaction

Evaluating billing statement preferences to improve customer usability

Defining customer motivators to drive participation in energy monitoring programs

Advising on improvements to customer self-service channels to reduce customer service costs for utilities
To learn more, contact Wayne Marks, President, 503-241-1103, wmarks@hansagcr.com or Julie Meyer Asp, Sr. Project Director, 503-243-4435, jasp@hansagcr.com.
Hansa GCR is a full-service market research and consulting firm. Looking through the lens of the customer experience and applying psychological principles of human motivation, Hansa offers best-in-class research in areas relating to Customer Relationship Equity, Brand Solutions, Market Assessment, Green and Sustainability, and Product/Service Innovation. Hansa GCR is part of R K SWAMY HANSA, an emerging global group with 1,100+ professionals offering Creative Communication, Market Research, Data Analytics, Brand Consulting, Interactive and Healthcare Communication Services.
For further information about Hansa GCR, please visit us on the web at www.hansagcr.com, contact us via email at customresearch@hansagcr.com, or call us at +1 503.241.8036.