By Dan Llanes, Director of Analytics, Hansa GCR
If you've been reading along or perhaps attending webinars we've been taking a look at the many benefits of Adaptive CBC (Choice-based Conjoint). Now it's time to turn our attention to the types of results we can generate with this technique. The Adaptive CBC questionnaire contains three major areas, the Build Your Own (BYO) section, the screener and the choice tournament. From these areas we can learn the following from a purely descriptive standpoint:
BYO: How often levels were included as part of respondents' preferred concept
Unacceptables: How often levels were considered unacceptable
Must-Haves: How often levels were must-haves
Screeners: How many products were screened into the consideration set
Choice Tournament: How often levels were included in the "winning" concept
These are all important questions, but they only begin to scratch the surface of what is possible with Adaptive CBC data. With the use of a simulator tool, conjoint data comes alive. A simulator tool is likened to a "voting machine" allowing researchers to build what-if scenarios and test price sensitivity for an offering. This is achieved using share of preference estimates that are derived from the conjoint utilities. Share of preference is defined as the proportion of respondents in the sample that would select one product configuration over several others. That is to say, if an organization were to offer a product with the features specified in the simulator, what proportion of consumers would select that offering over other competitive bundles?
In the following example, an organization is torn between bringing two distinct products to market (Products 1 and 2). The Adaptive CBC simulator becomes an indispensable decision-making tool in this scenario. By pitting both products against each other, along with four offerings from key competitors in the space, the simulator is able to determine a "winner" utilizing the Adaptive CBC utilities. In this example, a competitive offering is still capturing the most preference share; however, our hypothetical Product 1 is not too far behind. In addition, Product 1 is a clear favorite relative to Product 2. From this simple simulation exercise, we have learned that Product 2 is less viable than Product 1, and that improvements still need to be made to product 1 if it is to overtake the competition.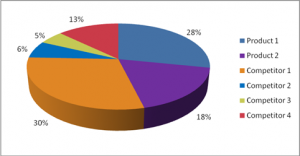 Another powerful simulation tool is a price sensitivity analysis. We are able to generate price curves from the BYO and tournament portions of the Adaptive CBC questionnaire. The example below displays optimal price points for our most preferred product bundle. The red line indicates "BYO Exercise" while the blue line plots the "Tournament Exercise" price data.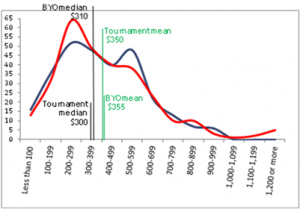 Simulator tools are quickly evolving to incorporate data points beyond that collected through the survey process. For example, simulators now take into account the cost of producing a product and its total impact on revenue. Costs would take labor and material inputs into account, along with any additional charges incurred getting a product to market. By taking these factors into account, Adaptive CBC simulations can pinpoint product bundles most likely to maximize revenue, rather than simply capturing greater market share which may be offset by higher production costs.
There is far more to Adaptive CBC output than we can cover in this blog.
Hansa GCR is a full-service market research and consulting firm. Looking through the lens of the customer experience and applying psychological principles of human motivation, it offers best-in-class research in areas relating to Customer Relationship Equity, Brand Solutions, Market Assessment, Green and Sustainability, and Product/Service Innovation. Hansa GCR is part of R K SWAMY HANSA, an emerging global group with 1,100+ professionals offering Creative Communication, Market Research, Data Analytics, Brand Consulting, Interactive and Healthcare Communication Services.
For further information about Hansa GCR, please visit us on the web at www.hansagcr.com, contact us via email at customresearch@hansagcr.com, or call us at +1 503.241.8036.