Email is effective, has great ROI and customers depend on it for information in times of crisis
You may be asking yourself: should I write to my customers about Covid-19? What about sending promotional emails? Is email still a good way to communicate? The answer: Email marketing was there to help in 2008 and it is indispensable now.
Email marketing could be the workhorse right now, but it's important to keep some things in mind.
Email is ideal for communicating right now but remember, not everyone has opted in, so this is not the time to spam customers
That said, take the opportunity to ask people if and how they want to hear from you
Mainly, have something to say; be genuine, add value
Tell customers you're open for business (and explain any new ways to work with your brand)
Help customers cope. Make it easy to work with you (e.g., communicate payment plans, policies, waive annual commitments)
Think of ways to engage beyond selling, like providing new content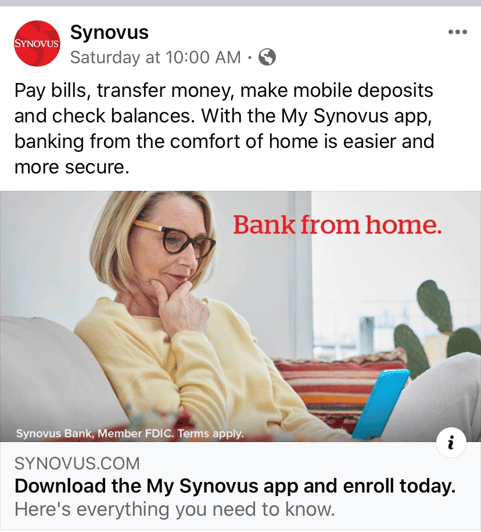 Banking leader Synovus has a "Comfort of Home" campaign focused on encouraging customers to use mobile banking and ATMs. It uses email working together with other digital media.
Put all types of email to work
Promotional email isn't the only type of email. Put triggered emails to work such as customer service call follow-ups, website searches, social media actions. Research shows that triggered email provides twice the open and click rates. Consider adding messages to transactional emails to reinforce your message. And, put employees to work - but make sure to put rules in place to govern what they say and how they say it. An email template is the easiest way to script them and adhere to brand standards.
Get help from your super fans
People are at home with time on their hands. Ask your brand ambassadors for help and link to their User Generated Content (UGC). This adds credibility and scale to your message. You don't have to be perfect; the bar for high quality video and polished content is low right now. News anchors are broadcasting from their living rooms. The playing fields is level for all of us to include content.
What not to do
Now is not the time to exploit your customer base. Be genuine in your communication.
Don't do this alone. This is the ideal time to work with other people in your organization, especially Sales and Customer Service. They are talking to customers and can provide input into Marketing Communications, then amplify the message.
The most important thing is to not isolate your brand: now is the time to reach out – internally, and to customers and partners who need to hear from you.
Want to know more? Hansa has worked with hundreds of email marketers and boiled down the five things that defines world class. Get the Marketer's Guide to Effective Email by clicking here