Marketer's Guide to Effective Email: Part 2
Email is still the darling of digital marketing. Brands love that email is:
Addressable – messages go to individual customers
Measurable – relatively easy to measure
Low cost, high ROI
Easy to change the message and creative
Responsive to multiple devices
Brand building as well as transactional
Engaging and built for ongoing communication
PII that can be used for identification internally and externally
That's a lot to love. But what about customers? Do they love hearing from brands? If they already are part of a loyalty program for example, research shows they are twice as likely to engage.
The challenge is obvious however: the average customer receives more than 300 emails per day (!). Brands need a way to stand out and earn the opens and clicks with personalized, relevant content. And that brings us to part two of the five ingredients to effective email marketing:
Ease of user sign up/opt-in process and what brands do next
Valuable and relevant content, not just more spam added to the pile
A culture of continuous testing
Integration with mobile, other digital channels and offline campaigns
Measurement beyond opens and clicks
How do you stack up against them? Is your email program world-class? Our scorecard will help you evaluate your own email marketing program relative to other world-class marketers. This methodical approach will help identify potential gaps in your program and arm you with new insights to refine your strategy and develop a new plan to put you on the path to world-class.
Valuable emails
Stop sending emails to every subscriber. Just because someone signs up for email doesn't mean they want to get your email marketing (sounds funny right?)
Customers see email as a way to engage with a brand. They define "valuable" as a function of relevancy, personalization, utility and trust. Relevancy can mean a lot of things including the context of recent browsing behavior or time of day or location. Personalization goes beyond using a first name where the email feels like it was written for one person. Utility relates to Call To Action (CTA) and the best emails leverage the inherent capabilities of mobile. Trust is alignment with the brand; the ability to generate responses while building a positive brand experience.
Here is our ranking, based on our experience with hundreds of email marketers:
Good: The email program provides valuable content and is not always pushing deals and promotions
Better: Content is personalized and varies by recipient; content is interactive (rich media, polls); content is timely, content reminds the recipient of last visit, last action taken, recent purchases or downloads
Best: Content is sharable and email program promotes user involvement and action (user-generated content, reviews, sharing on social and referrals); content is aware of location and can vary by proximity
Think of Email as a conversation, not just a chance to ring up quick sales. World-class marketers view email in streams of communication that encourages interaction with the customer to build a solid relationship. The conversation begins with a "welcome stream" which takes the new customer on a tour of the brand and lets them explore, upgrade, register a product and reveal how they want to be communicated to. The relationship builds through "nurture streams" to keep customers engaged and suggest ways to get the most out of the relationship (for example; add on services, accessories, configurations, automatic delivery).
Good analysts will also know when to intervene to mitigate a cancellation, an opt-out or attrition, based on email engagement (or lack thereof).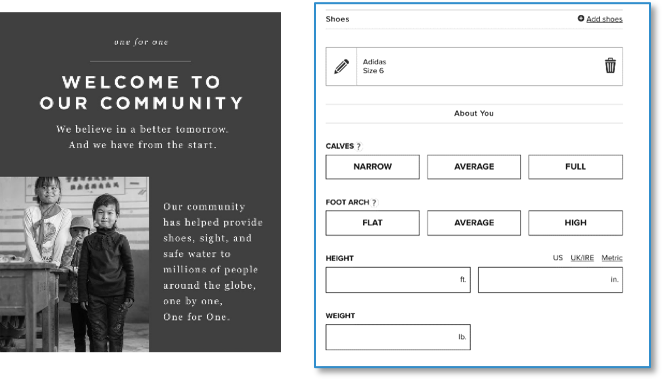 Toms® makes charitable giving an integral part of its brand. And yes, they sell shoes as well. When customers signup for email, Toms has a chance to tell its story but also collect 1P information it will use later to personalize the communications.
Brand building emails
Email is a brand-building medium in addition to being transactional. So, every time marketers send out an email, they are either building brand equity or depleting it.
Starbucks® wins the award for brand building using email. Take this example: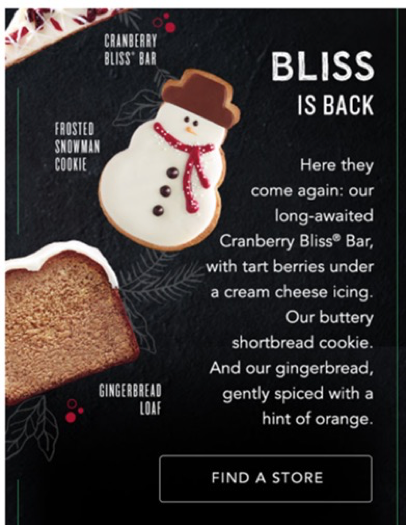 This email encourages Starbucks fans to deepen their relationship. The email tells a story about Cranberry Bliss® Bars and Gingerbread before pushing traffic to retail (pictured) or gift giving (e-commerce not pictured).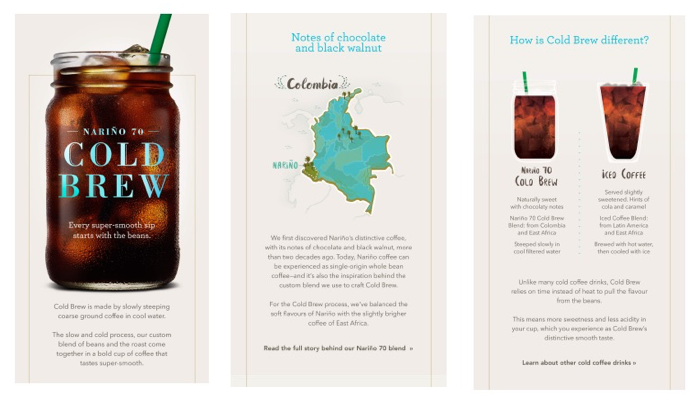 In another example, Starbucks fans will enjoy learning about Nariño 70 cold brew, even if they hate iced coffee. In other words, this story builds the Starbucks brand through interesting content in the email, whether there is a click at the end or not.
Triggered email
Effective email marketing programs vary the message by customer. In fact, some marketers focus their email programs on customers with high Customer Lifetime Value (CLTV) or accounts with potential high-value customers. But with every email, the customer also has a chance to communicate back to the brand. For example, they might want to opt down instead of saying goodbye as in this example from Homage®: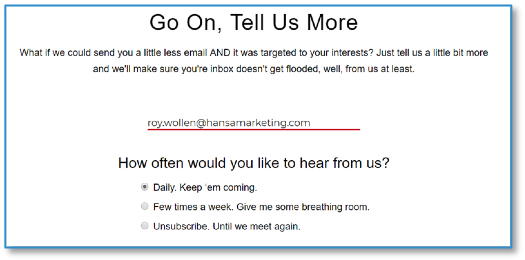 Or they may want to select what they care about as in this example:

It's tempting for brands to plan email campaigns on a calendar. They talk about send dates and pushed circulation. They balance unsubscribe metrics against opens, clicks and sales conversions and are satisfied when unsubs are less than 1%. This is leads to "batch and blast" email marketing, which customers get weary of. World-class marketers know that emails triggered by customer behaviors that serve up dynamic content are twice as likely to get opened, clicked and more. What kind of triggers work? Let's ask an industry expert, Yes Marketing®.

Actionable email
In the end, effective email needs to inspire action. How do your welcome programs compare?
Good: Call to Action (CTA) is clear and easy to find
Better: CTA is more robust with landing pages that provide more detail and reflect the action taken, which can include click to call, click to calendar or filling out "contact me" forms (so called soft conversions)
Best: CTA is compelling, not just a button, but a way to engage customers and push them along their journey with the brand. CTA is continuously being tested for placement, directional wording and varies by segment
Get the entire Marketer's Guide to Effective Email
WHO IS HANSA?
Hansa is a marketing communications agency that integrates insights and engagement. When clients work with us, they solve business problems and prove that marketing works.